Thermostat Setting - 'Automatic' vs 'On'
My thermostat is equipped with a 2 position setting for the fan "automatic" & "on". Where should I set it?

There is no "best" answer to this question, however, there are some things to take into consideration when deciding which setting to use. First, let me explain the difference between the two settings.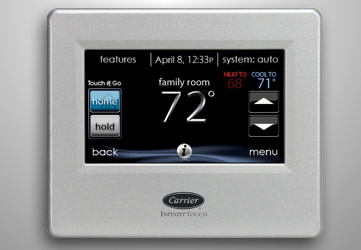 The "Auto" fan setting on my thermostat
The auto (automatic) position will turn the fan on ONLY when the furnace or air conditioning is actually running. In some cases, it will keep the fan running shortly after it's done heating or cooling, just to make sure all the heat or cool air has been pushed out, but then the fan will stop.

The "On" fan setting on my thermostat
The "on" position will run the fan 24 hours a day. It will continue running the fan regardless of whether or not your furnace or air conditioner is running.

Which fan setting should I use?
The big difference between the two is air circulation and air filtration.

Let's assume your furnace/heating system is equipped with some form of air filtration like an EAC (electronic air cleaner), an air purifier (common name for higher-end filters), or even just a standard air filter. If you set your fan setting to "auto", the air in your house is only being filtered when your AC or furnace are actually running. When they're not running, the air sits stagnant.

If you set your fan setting to "on", the air in your home will continue to circulate, and will continue to be filterd 24/7/365.

So, if you wish to get the most from your filtration system you should keep the setting to "on".

Are there any down sides to having it "on" all the time?
Having your fan on all the time, and therefore continuously filtering your air, does have some consequences. For example, your air filter will need replaced more often, especially if you're using the a standard filter. Higher end filters can withstand longer use before needing replaced.

Since the fan is on all the time, electricity consumption can also increase, however, this is usually quite minimal and similar to continuously running a ceiling fan.

Conclusion
Every home is different. Factors like pets, smoking, allergies and many other things can be taken into account when deciding whether to have your fan run continously or not. I hope this at least helps clarify the difference between your thermostat fan "on" and "auto" settings and helps you make a more informed decision.

If you have any questions, would like a more thorough analysis of your indoor air quality, or want to schedule a free consultation about your HVAC needs, please call us at 419-698-HVAC (4822).