$500 Instant Rebate on ALL Infinity Systems
We're happy to announce that we're now offering a $500 INSTANT rebate off all Infinity systems!

Now's the time to contact us for your FREE, no obligation, in-home estimate!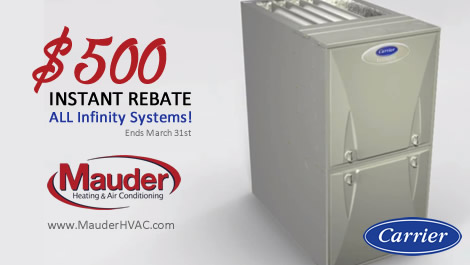 Carrier's Infinity series furnaces and air conditioners offer top-of-the-line comfort, performance, and efficiency. Their Greenspeed intelligence maximizes the performance of adaptable-speed technology, whether in the form of modulating valves or variable-speed compressors. The key to unlocking the full potential of adaptable-speed technology is Carrier's exclusive Infinity control.

The control uses all the information it knows about your comfort choices, your home's energy use, the system as a whole and even the temperature outdoors to communicate with the system.

New Infinity systems with Greenspeed intelligence continually respond to the Infinity control's commands to adjust with great precision to the comfort needs of the home.

Contact Us Today!