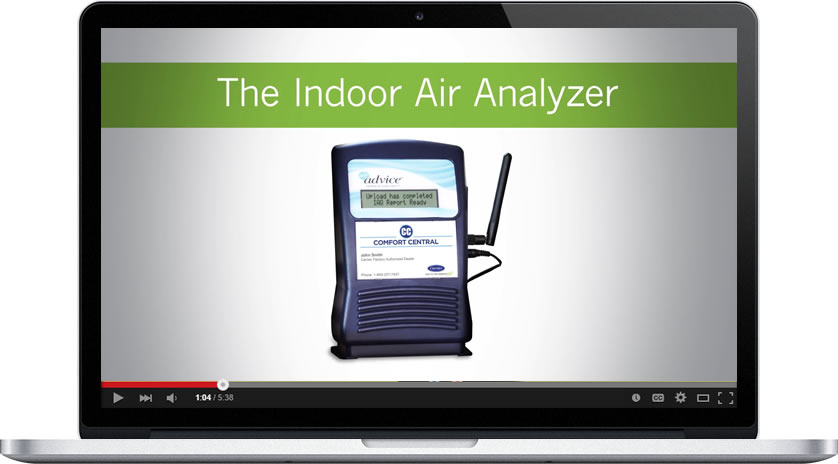 Indoor Air Quality Analysis
Indoor air quality can have a major effect on your family's health, comfort, and safety. Indoor air pollution can greatly exacerbate allergy and asthma symptoms as well as contribute to lung disease such as respiratory tract infections and even lung cancer.
If you or a family member suffer from allergies or asthma, or if you have infants or elderly persons living in the home, indoor air pollution and its health implications are of even greater concern to you.
Fast and Efficient
Our indoor air quality analysis is completed in around 30 minutes and can be running while we work on your furnace, AC, or any other HVAC needs.
Thorough Testing
We monitor your air for sut/particles, chemical pollutants, carbon dioxide, carbon monoxide, temperature and relative humidity.
Detailed Reports
Color-coded action-oriented reports tell you what was measured, why it was measured (why it is a concern), what was found, and, in the event of a health, safety or comfort concern, what product solutions are appropriate.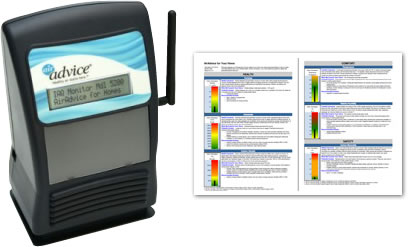 An AirAdvice assessment will:
Detail any problems your home might have with heating/cooling, humidity, carbon dioxide levels, carbon monoxide
Provide recommendations for making your home more comfortable and healthy
Offer ideas that will help reduce your utility bills
Give you peace of mind
Using technology to make your air safe!
Pollutants aren't the only contributors to poor indoor air quality. Today's tightly sealed and energy-efficient homes can actually have negative effects on your home's air quality because they might not be properly equipped to filter and purify the constantly re-circulated air.

Without adequate indoor air circulation, pollutants can build up over time, leading to poor indoor air quality. Temperature and humidity need to be balanced to create a comfortable and healthy home environment.
Are you too warm or cold at times?
Are bedrooms not comfortable enough for sleeping?
Do you find your home humid in the summer or dry in the winter?
Does your home generally feel cool and lammy?
Call or contact us today!
Click Here
to schedule your air quality consultation today!